So you want to know how to live stream a church service?
We're living in a time where churches have been forced to start live streaming – whether we wanted to or not. Many just started by setting up their mobile device and streaming to private Facebook groups and such. However, as time went on, church leaders started to recognize the utility of live streaming church services.
There's a right way to do it, and a wrong way. In this guide, we'll show you the right way, and the easiest way to get a high-quality live stream going, as well as all the equipment you will need to do it right.
How to Live Stream a Church Service
There are going to be three parts to this guide: equipment, setting up, and running the live stream.
If you're going to have a high quality live stream, your church is most likely going to need some equipment. Then, once the equipment is in place, you'll need to get it all configured and setup. After that, you'll need a clear set of processes to run the live stream like professionals.
None of this is difficult. So, let's just get started!
Church Live Streaming Equipment
There are 3 main categories of technology you'll need to take care of:
The Camera
The Encoder
The Platform
The camera is the eyes of the live stream audience. You can have one or many, but they need to be high-quality cameras or your stream quality instantly goes down.
The cameras feed their footage (signal) into the encoder, which takes that image and encodes it – it formats it into a file that is then uploaded to the platform (Facebook or YouTube, etc.). That file is streamed by the platform to each individual's computer.
Let's tackle each of these areas one at a time.
The Live Streaming Camera
We've written about this in the past, here. And, we have a video about it, too. That's embedded below.
Without rehashing all of that, you basically need a camera that can deliver the highest quality image to your encoder. We recommend getting a 4K camera like the Sony a6100 or Panasonic G85. We also highly recommend the PTZ cameras for church use, and we sell those here.
As long as your camera has a clean HDMI output and can stay powered on and running indefinitely, it will work for live streaming.
The Encoder
There are a lot of options for encoding, and we don't like most of them – not because of a quality issue, but because of a flexibility issue. And for church live streams, flexibility is a nice thing to have.
There are hardware encoders that can be purchased for anywhere between $500 and $2000. We don't recommend these unless you are a professional with a lot of other hardware to add to the setup. Actually, we just don't like hardware encoders – we like software encoders.
In our opinion, churches need to invest in a high-quality live streaming computer. This computer can run live streaming software like OBS Studio or VMix. If you have a newer Mac computer, Ecamm Live is a good option – however, I prefer OBS because of its flexibility and ease of use.
Your streaming PC should have an internal capture card that allows it to capture 1080 or 4K video footage from your cameras. If you only have one or two cameras, you can also use the Elgato Cam Link, which will turn the camera's HDMI output into a USB input to your streaming computer.
Also, not unimportant, you will need a way to get high-quality audio embedded into the stream. We'll show you how we do it below.
The Platform
This is the easy part, because Facebook and YouTube is where most people will stream. You can stream directly to either of these platforms without much difficulty. However, if you want to stream to both of them at the same time, you will need a repeating tool that will take your live stream and "repeat" it to all the platforms you want to stream to.
We use Restream.io to stream our services to YouTube and Facebook simultaneously, and it's worked really great. However, there is an additional monthly charge to use a tool like this.
Setting Up Your Church Live Stream
Now that you have your camera and encoding PC, it's time to get the right software, and configure everything for live streaming. Let's start with the camera.
Configure Your Church Camera for Live Streaming
If you took our advice and purchased a Sony a6100 (or similar), setting it up is really easy. Follow the steps in this video to configure the camera for the best streaming performance.
The basic setup is to get the HDMI signal to send a "clean" signal, turning off all of the on-screen information usually displayed on the camera. Then, you need to make sure your HDMI output is getting the highest quality image your chosen camera can provide. Other settings to check are the power options, making sure it is set to use AC power rather than battery power.
We use this "dummy battery" in our streaming kits with the Sony a6100.
After you configure the camera settings, you will need to mount it in the place that gets you the best view of your platform. You can use a tripod, or a wall mount.
Send the Camera HDMI Output to the Streaming PC
Now that your camera is setup and mounted, it's time to connect it to your streaming PC.
In most cases, your camera will be mounted some distance away from the streaming PC. An HDMI signal, in most cases, is not going to reach. You can go one of two ways: get an ethernet signal extender, or get a fiber-optic active HDMI cable.
We use both methods to connect our cameras up to 100′ away from the streaming PC.
If you use an active HDMI cable, they are usually one-way transmitters. So make sure you put the transmitter on the camera end and the receiver on the computer end.
The receiving end of the HDMI cable (or ethernet extenders) will plug into your capture card of choice in the streaming PC.
Capture Card Options:
For multiple cameras, we like the Blackmagic QUAD HDMI DeckLink. If we only have one or two cameras, we also like the Elgato Cam Link 4K USB sticks.
Setting Up the Church Streaming PC
Now, you need to configure the encoding software to get your camera images, as well as setting up nice extras (images, overlays, etc) for your live stream.
Since we're huge fans of OBS, we'll use OBS as the example.
Requirement: Add Audio Device as an Input
Before you start configuring OBS to stream, we need to add whatever you are using to get audio into the live stream. For church live streaming, your audio is probably running through the mixer.
Make a Sub-Mix for the live stream.
Send that mix out using either an XLR or 1/4″ cable – whichever your mixer allows you to do. If you have a digital mixer, you can just connect the mixer to the streaming PC with a USB connection if it's not already being used.
If you don't have a digital mixer, or access to the USB output, we recommend using a USB audio interface on the streaming PC. We like the Scarlet Solo by FocusRite the best. We can plug in the SubMix cable from the mixer right into the Scarlet, then connect the scarlet to the PC via USB.
In the settings of OBS, click audio. Then, under the AUX/MIC channel, choose your interface or mixer. In the example image, our digital mixer is a Rodecaster Pro – you can see we selected it in the dropdown.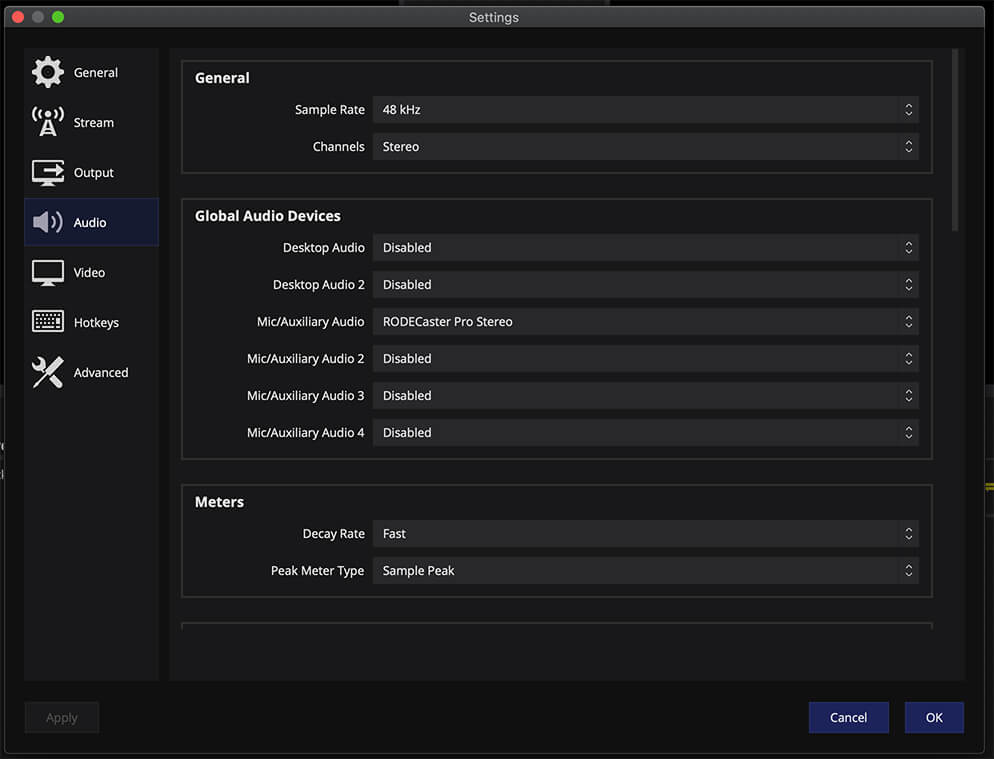 Note: we're also going to assume you're using the Elgato USB capture card for this section. If you're using the Deck Link, the process is exactly the same except for one step. (You'll choose Blackmagic Device instead of Video Capture Device in the steps below).
Step 1: Connect OBS to Your Chosen Platform
From whichever platform you want to stream to, you'll need your server information and stream key. We have covered this in our other content, but we'll show you how to get the info from Restream in this guide.
In Restream, go to the channels area (the top icon on the left) where you add your streaming destinations (Facebook, YouTube, etc.).
Click on the RTMP settings button, and it'll give you a popup with a URL and a stream key.
"COPY" the stream key, and then close that popup window.
Go to OBS, and open up the stream tab in settings.
Drop down the menu to show Restream, and then paste your stream key into the empty field.
You're done with this step.
Step 2: Run the Setup Wizard
The downside of OBS is that you can quickly get in over your head if you try to use the custom stream and recording settings. Luckily, they've included an auto-setup tool that will give you the best settings for your computer and your internet upload speed.
In the OBS tools menu, run the Auto-Configuration Wizard, and choose "streaming" as the priority – then let it do it's thing and apply the settings it recommends at the end.
Step 3: Add the Live Stream Scenes & Sources
Think of a "scene" as everything you want to show on the screen – it's all the things you may want to show (video footage, image overlay, picture in picture, etc.) all in one. "Sources" are each of the items you want to appear in a scene.
For example, if you want your video footage to be full screen, but then you want a small logo watermark in the lower-left hand corner of the screen, your scene would need to include the video footage, and the logo image sources.
Click the + sign to add a scene, and name it whatever it should be named.
Click the + sign and add a source.

If you used the Elgato Cam Link to connect your camera, click "Video Capture Device" from the sources type. It should automatically find the Cam Link.
If you used the Blackmagic Quad Decklink, you'll choose Blackmagic Device.
You can add all kinds of sources to your scenes, so play around with images, etc. You can add videos by adding a "media source." The videos below will show you how to do that.
Just remember, the sources are stacked on top of each other in order they appear in the "sources" tab. So, if you need one to be above the other, you will need to drag them into the correct order int he sources tab.
Step 4: Start Streaming
Now that your sources and scenes are setup, all you have to do is to start streaming.
Producing (Running) the Live Stream
Now that you are live, now what.
OBS allows you to produce a stream very easily.
If you have multiple camera angles, you can transition from one to the other using the OBS settings.
If you only see one video view in OBS, click "Studio Mode" to put OBS into Studio Mode. In Studio Mode, you will have a preview on the left, and the live view on the right (program).
This mode allows you to cue up a scene and see what it looks like before you send it to the live view.
When your live stream is over, click the button to stop streaming.
You're done.
There are many, many things you can do with OBS. And you can upgrade your church live stream a whole lot by adding multimedia, overlays, etc.
If you want to know how to do advanced OBS things, follow our YouTube channel here.