The RGBLink Mini+ video switcher is a great and compact solution for anyone in the market for a 4-camera switcher.
But is it a good fit for church live streaming and video recording?
That answer depends on a few factors. And in this article, we'll examine the pros and cons of using the RGBLink Mini Plus for churches.
Reviewing the RGBLink Mini Plus
First off, the RGBLink Mini Plus is not the same as the RGBLink Mini. They look almost identical, but there's a reason we're reviewing the plus model rather than the base model, even though the plus model is a little more expensive and features the same amount of camera inputs.
The Plus model features built-in PTZ camera control, which is a big deal for smaller churches. But, we'll talk about that in a minute. Let's review the equipment first, then we'll talk about who might get the most value out of it.
What is the RGBLink Mini+ Streaming Switcher?
The RGBLink Mini offers a solid, metal compact design with a built-in multiview of all four camera inputs. Switching is really easy, either by simply pushing one of the four trigger buttons, or loading the preview by pushing the trigger button and then pushing the transition button.
The video processing engine is hardware-based, which means it supports scaling and the full 4/4/4 color space. In normal terms, that just means you get the best image output possible for a switcher of this size and price range.
You won't dislike the image quality compared to any of RGBLink's competitors, like the ATEM Mini.
Other Features:
– 4 1080P HDMI Inputs
– USB 3.0 Output (Use as a Webcam Source)
– Audio Input (3.5mm Jack)
– Autio Output (Monitor or daisy-chain audio)
– Auto Cut or Manual Switching
– HDMI Output (Program or Multiview)
– Picture-in-Picture (PIP) Built-In
– Seamless Switching
– Supports 3rd-Party Streaming Apps like OBS
– Can Be Used With Zoom
– Built-In Transition Effects
– Built-In PTZ Camera Control
– Remote Control Via App
Regardless of the studio it's in, this switcher is perfect because it can even mount to standard 1/4-inch UNC accessories, which is undoubtedly one of its most significant features.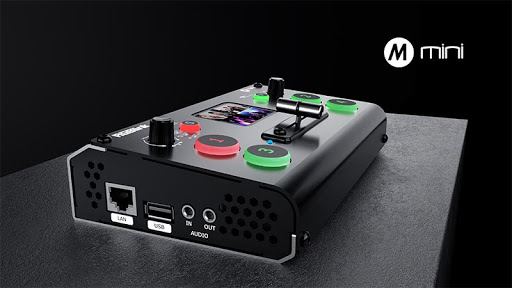 Using The Switcher as a Webcam Source
One of the great things about its USB output is that you can use it as a webcam source on almost any computer. This makes the easiest connection to the most popular software options.
It also means that you can plug it in, and immediately use it with software like Zoom and Skype, or OBS.
For those who want to use Apple Mac computers, this switcher works flawlessly with Mac software like OBS and ECAMM.
Remote Control
One convenient feature is the functionality over apps or PC software. The software controls all of the features of the RGBLink Mini Plus from wherever you are, as long as you are connected to the same network.
For example, in our church, I control the live stream using an app on my phone. I have to maintain control from the pulpit as I am singing and preaching – because we currently have no volunteers to run the live stream from the sound booth. So, I have to control it with a wireless app and 3rd part hardware.
This switcher has that functionality built right in.
Small Footprint (It's Tiny)
This switcher weighs just over two pounds. It's very light, but very solid build. It does not feel cheap or plastic.
Its size is around 6" X 10" by 3.5″ in size.
Most who use this switcher love this. Since it's so small, there doesn't need to be much room for a lot of hardware. If you have a small/crowded sound booth, this is a lifesaver. And with the built-in video preview, you don't even need a reference monitor. Which makes this an ideal mobile rig as well.
It also features a threaded mount, so you can mount it to just about anything if you don't want it on the desk or tabletop.
More Geeky Specs
The RGBLink Mini Plus offers HDMI, SMPTE, VESA, and USB streaming. Its connectors include four HDMI-A inputs, one HDMI-A and one USB-A output, and two 3.5mm stereo audio jacks (one in and one out).
Built-In PTZ Camera Control
In this video, you can see a demonstration of using the two knobs on the unit to control a PTZ camera. You can control up to four PTZ cameras without the need for additional hardware.
Again, for churches who want to minimize hardware footprint and space, while still having great quality and control, this switcher packs a ton of value. Being able to pan, tilt, and zoom your PTZ cameras without any additional hardware is a huge plus.
Who Should Buy the RGBLink Mini Plus?
First, the answer is obvious: anyone who wants a lot of features with a really small footprint should consider it. And, anyone looking for a PTZ streaming kit to pair with a Macbook Pro or Mac Mini, this is a great choice.
It gets a quick win over the ATEM Mini because of the built-in preview monitor and the PTZ camera control.
If you like the feature set, and you don't need any more than 4 inputs to your live stream or recording setup, then you can't go wrong with the RGBLink Mini Plus. From a video quality perspective, you won't find anything better in its price range.
Who Should Not Buy the RGBLink Mini Plus?
The downside of the RGBLink Mini is that it is a switcher. A great one, but still just a switcher. So, it will require an encoder to do any live streaming.
This is why we think it's a great match to use with a Macbook Pro streaming with ECAMM. Especially if you're using PTZ cameras.
With that said, if you don't want to mess with software and streaming computers, the better option is a streaming kit built with the ATEM Mini Pro, which includes a built-in encoder. This means you can stream with the ATEM Mini Pro without a computer.
Still, with the ATEM Mini Pro, you will need a reference monitor to preview your video feeds. The RGBLink Mini Plus has that built-in.
So in terms of space, it's kind of even between the ATEM and the RGBLink.
How to Buy an RGBlink Mini Plus Streaming Kit
We have streaming kits built on the RGBLink Mini Plus, and we have kits built on the ATEM Mini Pro as well.
Our honest opinion is, neither is better than the other. So, if the RGBLink looks like a better fit for your needs, go for it. If not, the ATEM Mini Pro is definitely worth the look.